Reports
Monday 11th April 2016 - GFWI visit to Majid-e-Noor Mosque, Gloucester
We were warmly welcomed by the Imam and introduced to the three ladies who would give us an insight into the Muslim faith. It was interesting to hear about the 5 pillars of their faith, Shadadah – declaration of faith; Salat – praying five times a day; Zakat – giving money to charity; Sawm – fasting during the month of Ramadan; Hajj – at least one pilgrimage to Mecca. However it was the insight into the Muslim faith from a women's point of view that fascinated us all, as the many questions from the floor proved. The ladies were very keen to stress that underneath their hijab they are no different to any other woman; they have the same worries, concerns, tears and joy and are constantly juggling work and home life. However, contrary to public belief, they find the hijab liberating as they are judged as individuals, not just by their looks, whereas the simple plain clothing is practical and frees them from the whims of fashion!
We were split into teams to take part in a general knowledge quiz which proved to be interesting as most of us were sat on the floor so movement was somewhat challenging! Our answers showed how informed WI members are as there was a close call on the prize for the most correct answers. However the quiz did highlight some misconceptions which our lovely ladies were able to correct.
One issue that was discussed is how Muslim women are respected within their community. The women stated that the Koran held women in high esteem; their dress is to protect their modesty whereas when praying at the Mosque this is done apart from men to enable the men to stay focused whilst protecting their dignity during prayer positions.
Our final treat was to have the prayer process demonstrated to us and informed how the Imam carried out proceedings before he shared a prayer with us. I found this very moving as his voice was so melodic and by the responses around I was not alone!
The time certainly went very quickly, as we were so enthralled, and has left uskeen to do more research into this ancient faith.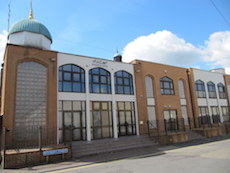 2015 GFWI Christmas Concert
Over 1600 members, families and friends were at Cheltenham Town Hall on 2 December for the 2015 concert. After all the administrative problems of the previous 4 months one could not have expected the day to have gone better. Our own choir was magnificent, the marimba playing Freya Ireland was brilliant and Laura Wright, our special guest for the evening, was breath-taking.
So many members said on their way home and with emails the following week that this was the BEST concert the GFWI had put on,EVER. What a shame so many members missed out by asking for refunds! Their loss as they say. It was easy to see why England Rugby had booked her to sing at rugby internationals. Laura mesmerized the audience in both sessions of the concert and received a thunderous ovation, as did Freya and our wonderful choir.
It's going to be hard to top this concert but we have a plan!!!
GFWI 2015skittles final
The annual GFWI Skittles Knock-out Tournament culminated in a loud and happy final, held at the Cheltenham Area Civil Service Sports Association on Friday 13 November 2015. The teams contesting were 'Bishops Cleeve' and 'Baking, Making and Shaking' (BMS), village neighbours and obviously there to enjoy their skittles.
'Bishops Cleeve' came to the final having beaten both 'Frampton-on-Severn' and 'Sandhurst', the previous winners for the last three years. 'BMS', in their first year of playing in the tournament, played with 11 players – if you count Fiona Hall,whose baby was due on finals day and obviously felt inspired, as she put in the second highest score of the evening, a creditable 39 with one hand of 9. There were no spares from either team this time,but two more 9's scored by Joyce Field and Sandra Young, both of Bishops Cleeve. However, high score of the evening went to a BMS player, Claire Petelo, who scored 41.
After a slightly delayed start, while a photographer took some pictures which will hopefully be seen in the local papers, BMS won thetoss and elected to go second. They quickly built up a small lead, and at the half time break were 15 ahead. The second half, after some lovely sandwiches and chips, was again close, but BSM again won by 14 pins, so the final score was BSM 333 and Bishops Cleeve 304.
The trophy, presented to GFWI by Frampton-on-Severn WI three years ago, and with a new base this year, was presented to Baking, Making and Shaking Captain Lynsey O'Neill by Janine Black from the Sports and Leisure Committee, who adjudicated the evening.
GFWI Skittles Plate Final – Friday 20 November 2015
The Plate final – the culmination of the knockout tournament between all those knocked out of the main event in the first round,took place at the Cheltenham Area Civil Service Sports Association. The 2014 holders of the main trophy,Sandhurst, having lost their first round this year, fought their way through to this event and met Avening.
Avening won the toss and elected to go second, so Sandhurst got started and went straight into the lead, when Avening member Helen started with an unfortunate zero, but then followed up with an eleven spare, so the scores were all square after hand 2. Avening held the lead until the last hand of the first half, when Sandhurst rolled a 40 hand, assisted greatly by Sarah's 16 spare, to go into the refreshment break 11 up.
In the second half, another spare of 13 from Sandhurst's Kath helped them to go ahead, and consistent scoring kept them ahead until the end. The final total was Avening 315 to Sandhurst 335. High individual score was Sarah from Sandhurst with 46, followed by 44 from Cath Humphris and 43 from Kath Tribe, both also from Sandhurst.
The Plate trophy was presented to Celia Poffley from Sandhurst by Janine Black of the Sports and Leisure Committee, who oversaw the evening.
Contact the NFWI
Phone: 020 7371 9300
Open hours: 9am–5pm Mon–Fri
Address: 104 New Kings Road, London SW6 4LY
Or fill in the contact form... to email a specific department