Craft Committee
CRAFT COMMITTEE
Welcome to the Craft Committee 2017
Diane McHarge - Chair
Stephanie White - Secretary
Heather Vickers Julie Rowlinson
Maggie Bristow Josie Turner Penny Watson
Sue Coulton Jenny Sykes
Jo Adams Chris Revell
The DFWI Craft sub-committee arranges day workshops on a variety of crafts in different locations in the County to help members learn a new craft or improve their current skill level. These days are informal, relaxed and enjoyable; there's no point in doing something if you're not going to enjoy it. We also arrange a Dabble Day once a year at which members can come along and 'dabble' at a variety of crafts which are quick and easy to do.
For the link o the NFWI web site Craft page click here
Our committee also receives the entries for craft at the County and Bakewell Shows, and at the Spring Council and Autumn Federation meetings.
_________________________________________________________________________________________
DFWI Craft Committee First Sewing BEE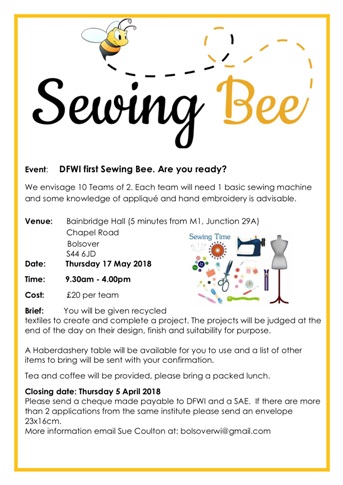 _______________________________________________________________________________________
Craft Sub-Committee
DFWI First Sewing Bee! Are you ready?
Bainbridge Hall. Chapel Road. Bolsover. S44 6JD.
(5 minutes from M1 Junction 29A.)
Thursday 17 May 2018 9.30am to 4.00 pm
£20 per team (2 ladies per team)
You will be given recycled textiles to create and complete a project. The projects will be judged at the end of the day on their design, finish and suitability for purpose. A haberdashery table will be available for you to use and a list of other items to bring will be sent with your confirmation.
Each team will need 1 basic sewing machine and some knowledge of applique and hand embroidery is advisable.
More information, email Sue Coulton at: bolsoverwi@gmail.com
Tea and coffee will be provided but please bring a packed lunch with you.
Closing date Thursday 5th April 2018.
Please send a cheque made payable to DFWI with applications and a SAE. If there are more than two applications from the same institute please send an envelope 9 x6½ " (23 x 16cm).
_________________________________________________________________________________________
On With The Show - winning hints and tips.
Monday 9th April 2018 10am – 1pm £5 per person
We are pleased to offer another venue for 2018 - Darley Dale Methodiest Hall
Know the rules, understand the schedules
The marking system explained
Interpretation and staging – what is that?
Entering a Co-operative competition
Using the 'On With The Show' folder
Pitfalls and successes – examples for you to judge for yourself, or bring your own items.
Closing date Friday 1st March 2018. Contact: Maggie Bristow Tel: 01298 814988 Email: Maggie.bristow19@btinternet.com
_________________________________________________________________________________________
Sashiko Embroidery with Maryl Simpson
Thursday 15 March 2018 - 10.30am to 3.30pm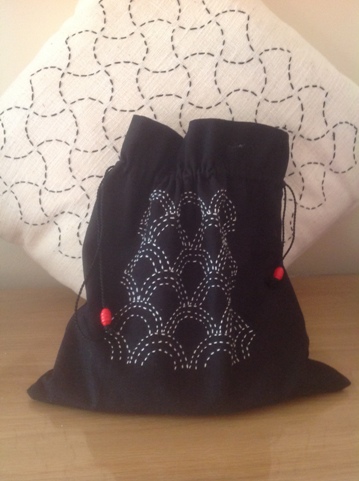 Sashiko is a form of Japanese folk embroidery combining country style with intricate designs – all made with simple running stitch. You will be able to make a small drawstring bag using different Sashiko stitches. The process is said to be meditative and relaxing, so why not join Meryl for a pleasant day sewing?
A £4 kit (fabric, thread, needle) will be available on the day. An equipment list will be sent with your confirmation.Tea and coffee will be provided during the day but please bring a packed lunch with you.
Venue - Derbyshire House. Sherwin Street. DE22 1GP
Cost:£28.00
Closing date Wednesday 31st January 2018.
Please send a cheque made payable to DFWI with applications and a SAE. If there are more than two applicants from the same institute please send an envelope 9 x6½ " (23 x 16cm).
Any queries - please contact Maggie Bristow Tel: 01298 814988 email Maggie.bristow19@btinternet.com
_______________________
Re Centenary Brick:
Please note that the finished measurement of the brick should be 9 inches X 5 and a quarter inches NOT centimetres. Please note that any enquiries about this email should be made to Diane McHarg at dianemcharg1947@btinternet.com
_______________________
Review of Workshops held in 2017.
Whitework Embroidery Button - Tutor:Jenny Adin-Christie
Derbyshire House - 3 November 2017 10am – 4pm.
Jenny is a Graduate Apprentice of the Royal School of Needlework and she worked on the Duchess of Cambridge's wedding veil. Jenny has a charming, quiet and gentle manner. After initial explanations she continually payed attention to each lady with encouraging , positive comments interspersed with small group additional demonstrations. Those with less confidence were soon put at ease. The14 ladies attending were quickly absorbed in their sewing and the room had a lovely calm atmosphere.There was the opportunity to choose to make smaller or more complex button with the kit provided on the day at an additional cost. The day was longer than usual on advice from Jenny to allow time for the ladies to mostly complete their button.
Craft Dabble Day October 2017
Held at Wyston village Hall this did prove a very popular event judging by the photo!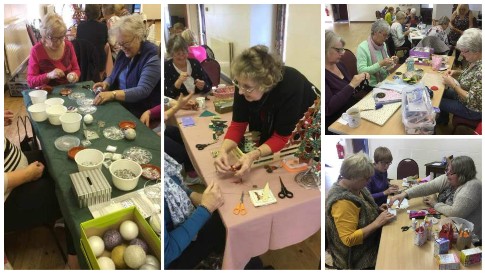 Mosaics Workshop Monday 8th May 2017 with Tutor Lis Greensmith
Held at the elderly people's club at Apperknowle this new workshop ran from 10.00 am to 4.30 pm Ten members enjoyed a well prepared workshop with a variety of objects to cover in mosaics and a wide choice of materials to use. Most mosaics were completed at the workshop - with only groluting to be done once the glue had dried.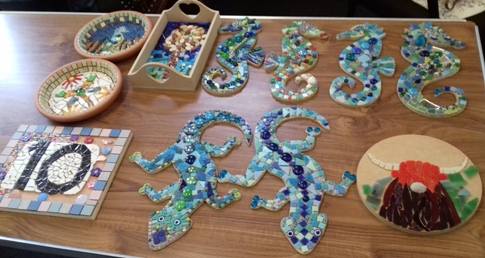 __________________________________
Dabbble Day at Staveley
This event was a great success with members trying Felting, Box Decorations, Gift Bags, Decorated Cards, Cards with Folded Designs and Beadwork. The Dabble Day ran from 10.30 am to 3.00 pm with Barlborough and Clowne WI providing refreshments throughout the day.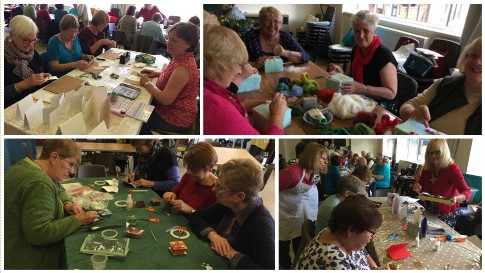 ____________________________________________________________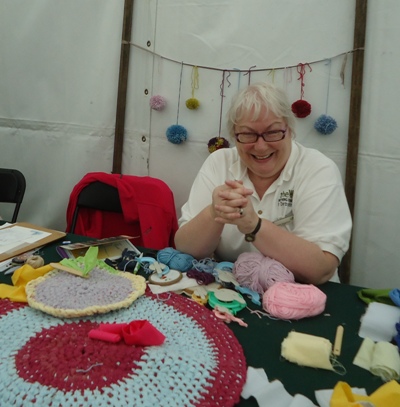 Trustee Linda Singleton manning the Craft table at Bakewell Show August 2015