Stop Press & Derbyshire House
Return to About Us (Home Page)
STOP PRESS..........STOP PRESS..........STOP PRESS
DFWI SPORTS AND LEISURE COMMITTEE LOOKING FOR TALENT!!!
From Diane McHarg,
DFWI Vice Chairman
You will be delighted to learn that Chrissie Booth has agreed to be nominated for the National Board of Trustees. You will have received the relevant documentation and I urge you to vote for her - obviously!
Unfortunately, under Chrissie's nomination information it indicates she has no Federation nomination - this is NOT correct - she has DFWI full backing and encouragement.
Lynne Stubbings, National Chairman, has telephoned me to let me know that the Federation nomination was not received and has apologised for the error, realising that Chrissie would, of course, have our full backing.
All information re nominations is also on MyWI.
Please ensure your members have this information when they come to cast their votes. I know you will agree with me that she would make an outstanding contribution to NFWI.
WALKING NETBALL IN ASHBOURNE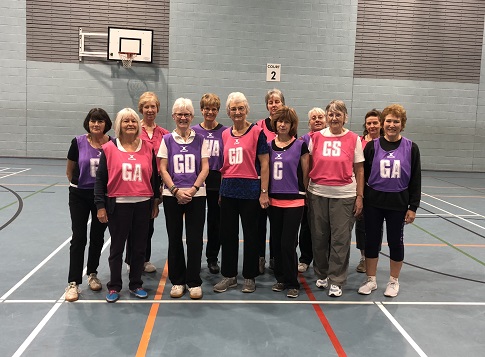 Walking Netball is really taking off in Derbyshire with new venues being set up.
Anyone in the Ashbourne area is very welcome to come to the Ashbourne Leisure Centre each friday from 10.30am until 11.30am and join in with the great group of ladies who have been coming to that session. A super fun activity 🏀👍come on down and bring a friend!
For more information call Jenny on 01335 360171
ACWW Spring Supporters Day
Monday April 15h 2019 @ Derbyshire House
Doors open 10.15am for 11.00am start
Enjoy coffee/tea/biscuits, a browse round the stalls,
Speakers and a raffle
Close with tea at 3pm approx
Cost £8.50 (incl lunch and refreshments on arrival and end of day) please send cheques to ACWW Derbyshire inc SAE c/o Derbyshire House. Closing date Monday 1st April
Lady Denman Cup Competition 2019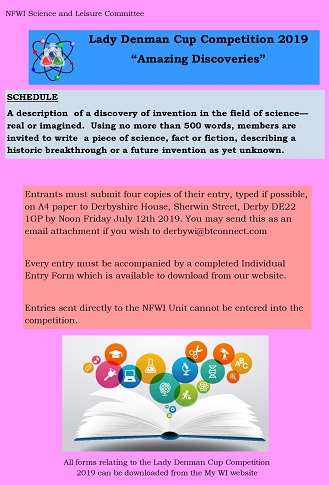 For application form for The Lady Denman Cup Competition Click here
A CHALLENGE FOR ALL
DERBYSHIRE WI PHOTOGRAPHERS
We are looking for photographs for the
2020 CALENDAR.
To feature
VIEWS FROM A DERBYSHIRE WINDOW
ALL PHOTOGRAPHS SHOULD BE CLEAR ORIGINAL PRINTS 7"X 5" max size
LANDSCAPE (HORIZONTAL) ORIENTATION
PLEASE MAKE SURE THEY ARE CLEAR AND SHARP FOR REPRODUCTION.
PLEASE WRITE. YOUR NAME. AND ADDRESS ON A STICKER
ON THE BACK OF HARD COPY PRINTS
DO NOT WRITE ON THE BACK OF THE PHOTO.
Enclose a SAE if you wish photos to be returned to you
Entries should be sent to Derbyshire House either by post or sent in digital format via email
Closing Date:12.00 noon Thursday 2 May 2019 to be judged week commencing Monday 6 May 2019
DFWI Home Economics Committee
Dorothy Hartley Trophy Competition 2019
3 Shortbread Fingers
The Dorothy Hartley Trophy Competition will take place at the Spring Council Meeting on Saturday 2 March 2019 at the Winding Wheel, Chesterfield.
The competition is for 3 Shortbread Fingers made to a given recipe. Prize money will be allocated to the first three places.
All WIs have received a copy of the entry form.
We look forward to receiving your entries. Good Luck.
Please send your details either by: email maureen.anderson1953@yahoo.co.uk or by post to DFWI HQ, Sherwin Street, Derby DE22 1GP
Labels will be given out and entry fees collected on the 2 March at the Winding Wheel, Chesterfield.
There is no need to send the fee or a SAE before the event. Entry Fee – £1
Closing Date: Monday 18 February 2019
Cathedral Windows Patchwork
Tutor: Josefina Snawden
Venue: Bainbridge Hall, Bolsover, S44 6PX
Date: Wednesday 22 May 2019
Time: 10.30am – 2.30pm
Cost: £30
Please bring your sewing machine, rotary cutter, cutting mat, fabric and usual sewing kit.
Tea and coffee will be provided during the day but please bring a packed lunch with you.
Closing Date: Midday Wednesday 10 April 2019
Please send a cheque made payable to DFWI with applications and a SAE.
Annual Council Meeting;
Tuesday 2 March 2019 at the Winding Wheel, Chesterfield.
Morning Speaker: Jess Storer, Head of Fundraising at the Children's Hospital and the
Afternoon Speaker: Jules Hudson, Presenter of Countryfile and Escape to the Country.
NFWI Resolution Briefing Meeting.
Wednesday April 17th 2019.
The Ballroom,
The Whitworth Community Centre.
Darley Dale. Matlock. DE4 2FT.
Doors open: 10am for 10.30 start until 12.30pm.
Cost: £3.50 per delegate including coffee/tea on arrival.
Please use a DFWI application form and send a cheque payable to DFWI including a SAE to Derbyshire House.
Closing date: March 28th 2019.
This is an opportunity to hear and ask questions of informed speakers on selected resolution(s) which will be presented at the NFWI Annual meeting to held in Bournemouth on Wednesday June 5th 2019.
We do not yet know which of the shortlist of resolutions will be selected until sometime in February.
There is ample parking space at the venue and at the car park next door. A lift is available to use for access to the Ballroom. WIs should be prepared to fund the cost of 1(one) ticket. Every WI applying for a place will be allocated a ticket.
Resolution Coordinator and contact: Diane Smiles on 01773 828586 or dianes192@gmail.com
Sport and Leisure
Scrabble Tournaments
Wednesday 8 May 2019 7.00 - 9.30 pm
Broadway Baptist Church, Derby
Wednesday 22 May 2019 7.00 - 9.30 pm
Darley Dale Methodist Church
Friday 24 May 2019 7.00 - 9.30 pm
Chinley WI Hall
Teams of 2 - please bring one Scrabble Board - £8 per team
Apply in the usual way to Derbyshire House - stating prefered venue and an email address wherever possible
Closing date - 12.00 noon April 10 2019
Media Hub -Flicknic - Friday 1 March 2019
Film starts at 1.00 pm but bring your picnic lunch from 12.30
Derbyshire House, Sherwin Street, Derby DE22 1GP
I Daniel Blake
No tickets will be issued - just turn up
£3 per person to include tea, coffe and biscuits
COUNTY QUIZ
Aston on Trent, Baslow, Buxton, Mickleover, Staveley, Swanwick, Turnditch (subject to confirmation)
THURSDAY 25 APRIL 2019
£12 per Team of 4 - Two Teams per Institute
Closing Date 8 March 2019
STRICTLY NO LATE APPLICATIONS -WHEN ENTERING A TEAM PLEASE SPECIFY WHICH VENUE
No spectators are allowed due to limitation of space. Teams are welcome to bring drinks and nibbles.
DOORS OPEN AT 7PM - QUIZ COMMENCES PROMPTLY AT 7.30PM
Public Affairs and International - Visit to Veolia Recycling Plant – Friday 12 April 2019
Mansfield MRF, Warren Way, Crown Farm Industrial Park, Forest Town, Mansfield, Nottinghamshire, NG19 0FL
Join us for a tour of the plant and first-hand information on just what we should be putting into which refuse and recycling bin! An opportunity to ask the questions to hopefully clear up some of the confusion and myths around recycling today.
Friday 12 April 2019 meet up from 1.30 pm for a 2.00 pm start of an approximately 2hour tour. Refreshments will be provided.
Limited places available. Apply for tickets in the usual way to Derbyshire House enclosing a self-addressed stamped envelope for tickets in-cluding a £2 admin fee by Tuesday 2 April 2019. Any queries please contact Viv Rhodes on 01919 723437 or email vivr1@yahoo.co.uk
Shibori Ribbons Workshop - with Heather Vickers
Derbyshire House, Sherwin Street DE22 1GP
Thursday 11 April 2019 10.30am - 3.30pm
£30 plus £5 for materials to be paid on the day
Silk Shibori ribbon is a versatile base for beadwork. You will use bead embroidery techniques to turn the ribbon into a pendant or brooch using beads, pearls or crystals.
Tea and Coffee will be provided during the day but please bring a packed lunch with you.
Closing date Thursday 7 March 2019.
Please send a cheque made payable to DFWI with applications and a SAE. If there are more than two applicants from the same institute please send an envelope 9 x 61/2 " (23 x 16cm)
THERE WILL BE ANOTHER WORKSHOP IN THE NORTH LATER IN THE YEAR
__________________________________________________
The shortlist for the 2019 Resolutions is now available - click the link below to find out more
Read the shortlist and find out more about the next steps for your WI to take.
For details of the new Denman Brochure November 2018 - September 2019 click the link below
https://bit.ly/2wgtcci 🌼 #LoveDenman #CraftSchool #CookerySchool #LifestyleCourses
______________________________________
SUBSCRIPTION FEES 2019
The NFWI Board of Trustees has set the membership subscription fee for 2019 at:
Full Membership £42 - NFWI portion £11.70 - WI portion £20.50 - Federation portion £9.80
__________________________________
The winner of the Chairman's Centenary Quiz is ..........Liz Mangle from Barlborough and Clowne WI - well done Liz
Click here for a copy of both the questions and answers
_____________________________
For the results of the competitions at the County Show click here
______________________________
Mental Health Matters
Mental health matters as much as physical health. The NFWI urges all WI members to recognise the importance of parity between mental health and physical health, and take action to make it as acceptable to talk about mental health issues as much as physical health issues, and to lobby government for better support for mental illness.
Resolution Results
For the motion - 5,945 ---------- Against the motion - 104
____________________________________________
Huge congratulations to our very own Bolsover WI for coming 3rd in the Elizabeth Bell Digital Story Challenge
_______________________________________________________________________________________
NEW WIs FOR 2017
Calver & District WI is a newly reformed Derbyshire WI, here are Kat and Sarah the Secretary and President at their first Committee Meeting since forming. Monthly meetings will be held in the Derwentwater Arms, Calver on 3rd Thursdays each month at 7.30pm. Best wishes to them and their members.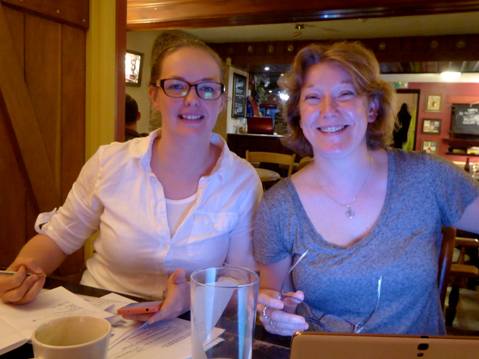 __________________________________________________________________________________
NEW WIs FOR 2016
The League of Ladies WI in Glossop had their inaugural meeting on Wednesday 27 July 2016. 51 new members attended.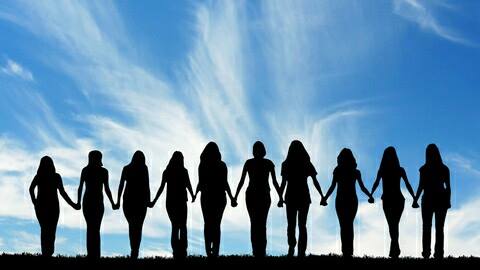 Meet members of the newly formed Woodville Whirlwinds WI - fantastic name ladies!
______________
Say hello to the members of Whaley Bridge WI Committee
________________________________________________________________________________________
NEWLY FORMED WIs IN 2015
Photographs of two newly formed WIs during 2015. Please send any information of other new WIs from 2015 and, of course, those hopefully formed in 2016 to the editor.
Members of New Mills WI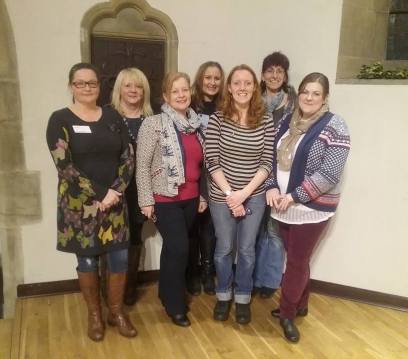 Clay Cross WI Committee Members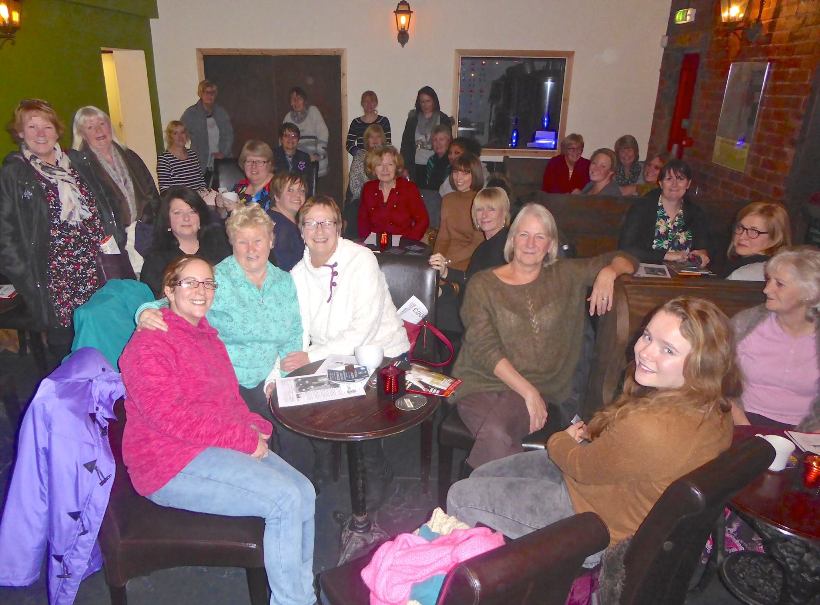 Clay Cross WI Members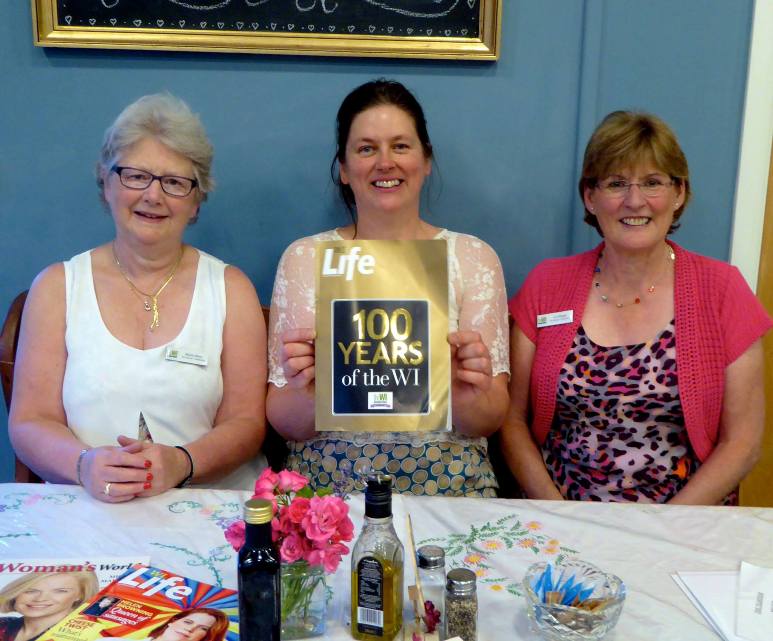 The President of Cliffe Park Dronfield WI with two WI Advisers
DERBYSHIRE HOUSE is our Federation Headquarters.
The Federation office is open between 10 am and 2 pm Tuesday to Thursday. During this time the office is manned by part-time staff, if you contact us outside these hours the answer phone is always on when the office is unoccupied. We will endeavour to respond to your query as soon as possible.
The Hall is available for hire, please see DFWI Hall Lettings below. New audio visual is available to hire at an extra cost, please contact the office on 01332 342596 for further information.
When visiting Derbyshire House for an event, etc. please note that on-street parking is very restricted. Please display a DFWI parking pass (available from DFWI HQ) on your windscreen to prevent receiving a parking fine. The traffic wardens are trying to cut down on university students parking on the roads around Derbyshire House, so please be aware of this when visiting.
Contact the NFWI
Phone: 020 7371 9300
Open hours: 9am–5pm Mon–Fri
Address: 104 New Kings Road, London SW6 4LY
Or fill in the contact form... to email a specific department