Stop Press & Derbyshire House
Return to About Us (Home Page)
STOP PRESS..........STOP PRESS..........STOP PRESS
DFWI Sewing Bee. Are you ready?
We need 10 Teams of 2. Each team will need a basic sewing machine.
Venue: Risley Village Hall
111 Derby Road, Risley, DE72 3SS (5 mins from M1 Jct 25)
Date: Saturday Oct. 19th
Time: 9.30am - 4.00pm
Cost: £20 per team
A Haberdashery table will be available to use and a list of other items to bring will be sent with your confirmation.
Tea and coffee will be provided, please bring a packed lunch.
Closing date: Friday 28th Sep. 2019
Please send a cheque made payable to DFWI and a SAE. If there are more than 2 applications from the same institute please send an envelope 23x16cm.
More information email Sue Coulton at: suecoulton31@gmail.com orJenny Sykes at : jen-sykes@outlook.com
______________________________
Youlgrave WI Celebrates 100 years
with an evening of theatre
On November 15th &16th 2019 7.30pm
At Youlgrave Village Hall DE45 1UT
THE WI INSPECTOR CALLS
A short comedy involving tea, cake and an illicit
bunch of flowers!
and
CHARIOTS OF WOMEN
Sketches, singing and dancing - a wry look at the
secret life of the WI

REFRESHMENTS AVAILABLE
Tickets £7.50 phone 01629 636416
Plus
CENTENARY EXHIBITION
an exhibition of fashion, photos, memorabilia
and fascinating collectables from the last 100 years
of Women's lives.
15th & 16th Nov in the Village Hall open 10am - 4pm
___________________________________
Clarification letter from Sam Hall ACWW
Dear all
I am sorry to have to contact you again so soon. Some of you have been confused by the paragraph on WIPfF
Can I clarify the position on Pennies for Friendship.
Pennies for Friendship from UK WI's is classed as an "empowerment" fund. It has always been used to support projects and will continue to do so as it is a "restricted" fund ie can't be used for any other purpose
PfF from the rest of the world, and individual contributors who are not WI members is an "unrestricted " and is classed as an "enablement" fund. It can be used in a variety of ways including keeping ACWW's day-to-day organisation running, supporting the advocacy and outreach work of ACWW, UN work, and keeping Central Office open.
PfF cheques should be made payable to ACWW on the reverse write WIPfF and if you wish your WI's preferred funding stream.
Other fund raising you can make cheques out to ACWW Derbyshire , send to Derbyshire House on Sherwin St We will share the funds across all funding streams in the ratio as agreed by next month's vote.
regards
Sam
Congratulations to our very own Liz Christian who has been co-opted onto the ACWW Membership & Finance Committee
Bursaries for attending Denman 2019 - 2020
For details of the above bursareis available and information on nhow to apply click here
Wendy Woolley Competition - Autumn Federation Meeting - 1 October 2019
A Fruit Jelly - flavour and recipe of your own choic
For details of the competition and application form please click here
Morley Hayes Lunch - Thursday 10 October 2019. For menu details and how to apply please click here
Public Affairs and International have to announe that sadly the Well-being Day scheduled for Tuesday 25 June 2019 has had to be cancelled.
Congratulations to our Federation Chair Chrissie Booth. Chrissie has been elected to join the National team. Her new post will be announced at the Annual Meeting in Bournemouth in June.
Public Affairs and International Apeal 2019 - Derbyshire Young Carers
Click here for the Wish List for ideas of gifts to donate - Thank you
Lunch at Morley Hayes (to replace the Hassop Hall lunch)
Thursday 10 October 2019
County and Bakewell Shows 2019
A decision has been made by the Board of Trustees not to have a presence at either the Bakewell or County Shows in 2019
Denman Brochure 2019
The new course brochure has arrived! Hurrah! Yours should be in the post but if you don't get it by Friday then get in touch! Or download it from our website! https://buff.ly/2nVPBHY
DFWI Board Of Trustees - Federation Officers 2019-2020
Chair - Chrissie Booth
Vice Chair - Sheila Berry and Diane McHarg
Hon Treasurer - Anne Bellamy
Assistant Treasurer - Sam Hall
____________________________________
NFWI-Wales has launched a new competition for members to enter as part of its Not in my Name campaign.
Established in 2012, Not in my Name aims to end Violence Against Women (VAW) by raising awareness and recruiting male ambassadors to make a pledge never to commit, excuse or remain silent about male VAW.
The 2019 competition is 'A Calligraphy or Word Art Picture in any medium'. For the competition guidelines click here
This competition is open to members across Wales, England and the Islands and we would welcome your support in promoting the competition within your federation. Members can download the guidelines from the NFWI-Wales section of My WI and the website:-
My WI - https://mywi.thewi.org.uk/wales/nfwi-wales-news/2019-not-in-my-name-competition
Website - https://www.thewi.org.uk/__data/assets/pdf_file/0020/348032/Competition-Guidelines-final.pdf
Please do not hesitate to contact the NFWI-Wales Office should you require further information.
______________________________________
SUBSCRIPTION FEES 2019
The NFWI Board of Trustees has set the membership subscription fee for 2019 at:
Full Membership £42 - NFWI portion £11.70 - WI portion £20.50 - Federation portion £9.80
Huge congratulations to our very own Bolsover WI for coming 3rd in the Elizabeth Bell Digital Story Challenge
_______________________________________________________________________________________
NEW WIs FOR 2017
Calver & District WI is a newly reformed Derbyshire WI, here are Kat and Sarah the Secretary and President at their first Committee Meeting since forming. Monthly meetings will be held in the Derwentwater Arms, Calver on 3rd Thursdays each month at 7.30pm. Best wishes to them and their members.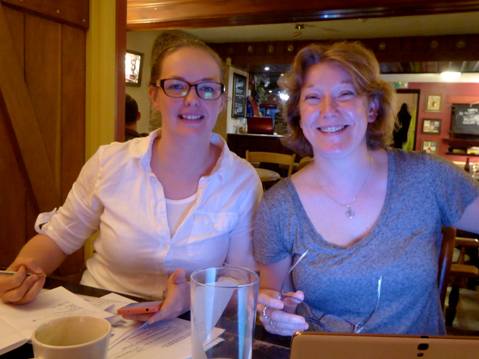 __________________________________________________________________________________
NEW WIs FOR 2016
The League of Ladies WI in Glossop had their inaugural meeting on Wednesday 27 July 2016. 51 new members attended.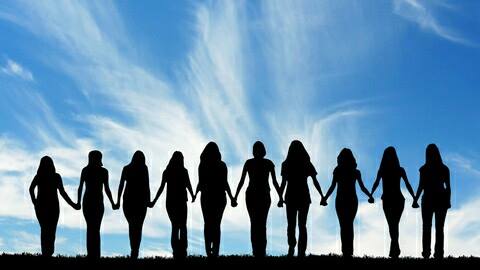 Meet members of the newly formed Woodville Whirlwinds WI - fantastic name ladies!
______________
Say hello to the members of Whaley Bridge WI Committee
________________________________________________________________________________________
NEWLY FORMED WIs IN 2015
Photographs of two newly formed WIs during 2015. Please send any information of other new WIs from 2015 and, of course, those hopefully formed in 2016 to the editor.
Members of New Mills WI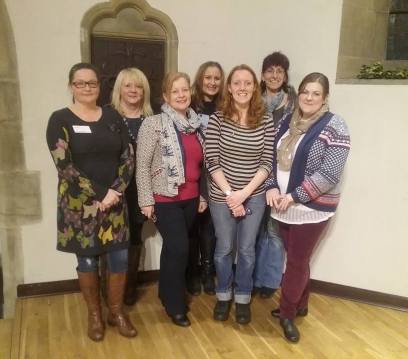 Clay Cross WI Committee Members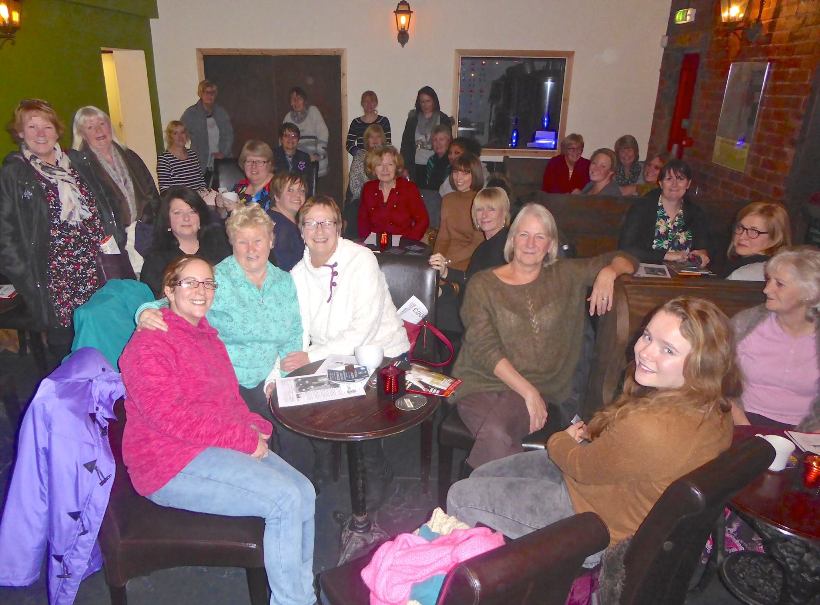 Clay Cross WI Members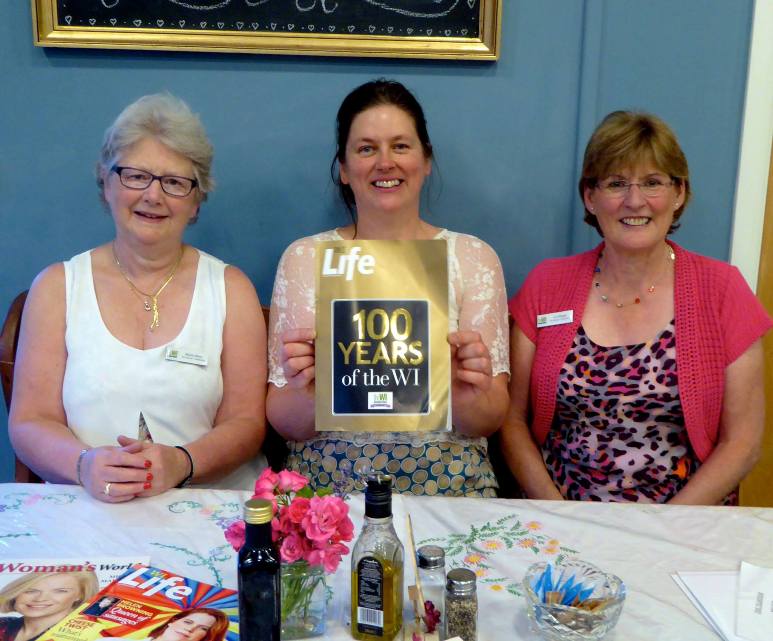 The President of Cliffe Park Dronfield WI with two WI Advisers
DERBYSHIRE HOUSE is our Federation Headquarters.
The Federation office is open between 10 am and 2 pm Tuesday to Thursday. During this time the office is manned by part-time staff, if you contact us outside these hours the answer phone is always on when the office is unoccupied. We will endeavour to respond to your query as soon as possible.
The Hall is available for hire, please see DFWI Hall Lettings below. New audio visual is available to hire at an extra cost, please contact the office on 01332 342596 for further information.
When visiting Derbyshire House for an event, etc. please note that on-street parking is very restricted. Please display a DFWI parking pass (available from DFWI HQ) on your windscreen to prevent receiving a parking fine. The traffic wardens are trying to cut down on university students parking on the roads around Derbyshire House, so please be aware of this when visiting.
Contact the NFWI
Phone: 020 7371 9300
Open hours: 9am–5pm Mon–Fri
Address: 104 New Kings Road, London SW6 4LY
Or fill in the contact form... to email a specific department