Competitions
Return to About Us (Home Page)
WI Adviser Competition 2019
Creat a flyer for your WI. Click here for information
Wendy Woolley Competition - Autumn Federation Meeting - 1 October 2019
A Fruit Jelly - flavour and recipe of your own choic
For details of the competition and application form please click here
County and Bakewell Shows 2019
A decision has been made by the Board of Trustees not to have a presence at either the Bakewell or County Shows in 2019
NFWI-Wales has launched a new competition for members to enter as part of its Not in my Name campaign.
Established in 2012, Not in my Name aims to end Violence Against Women (VAW) by raising awareness and recruiting male ambassadors to make a pledge never to commit, excuse or remain silent about male VAW.
The 2019 competition is 'A Calligraphy or Word Art Picture in any medium'. For the competition guidelines click here
This competition is open to members across Wales, England and the Islands and we would welcome your support in promoting the competition within your federation. Members can download the guidelines from the NFWI-Wales section of My WI and the website:-
My WI - https://mywi.thewi.org.uk/wales/nfwi-wales-news/2019-not-in-my-name-competition
Website - https://www.thewi.org.uk/__data/assets/pdf_file/0020/348032/Competition-Guidelines-final.pdf
Please do not hesitate to contact the NFWI-Wales Office should you require further information.
DFWI RESOLUTION CHALLENGE 2019 - 2020. Click here for information and application form. Click here for essential information on litter picking element of the challenge.
Download the entry form for the Ann Hale Cup 2019 here
The winner of the Ann Hale Tropy cup 2018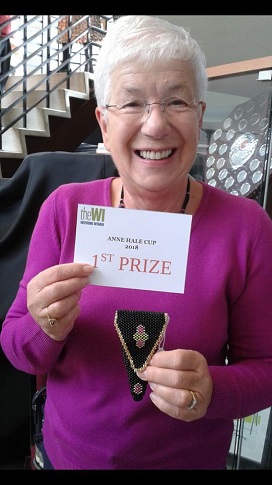 Well done Pat for winning the scissor case competition with a beautifully made scissor case
______________________________________
The Huxley Cup 2018
Anne Wright from Breaston Belles WI represented DFWI in the recent Huxley Cup competition. She didn't win, but her arrangement was nonetheless stunning.
_____________________________________________________________________________________
Contact the NFWI
Phone: 020 7371 9300
Open hours: 9am–5pm Mon–Fri
Address: 104 New Kings Road, London SW6 4LY
Or fill in the contact form... to email a specific department