Denman
Return to About Us (Home Page)
Denman Sub-committee
Diane McHarge - Chair
Barbara Bailey - Denman Ambasador
Janette Lobley
Any Denman queries - please contact the staff at Derbyshire House on 01332 342596
Derbyshire Federation visited Denman in March 2019 - see what fun was had by all the members attending
366517
Bursaries for attending Denman 2019 - 2020
For details of the above bursareis available and information on nhow to apply click here
________________________________________
The new Denman brochure from November 2018 to September 2019 is now available - click the link below
https://bit.ly/2wgtcci 🌼 #LoveDenman #CraftSchool #CookerySchool #LifestyleCourses
_________________________________________________
Denman Appeal Update: Thanks to your fundraising efforts DFWI recently sent a cheque for £1315.00 to National as a donation to the 'Save Denman Appeal' Well done ladies!
The day has come...our new website is now live! Check it out here: https://www.denman.org.uk/
______________________________________
Derbyshire Federation visit to Denman 2019
What an amazing time a group of lucky Derbyshire Federation members had in March 2019 on the Federation visit to Denman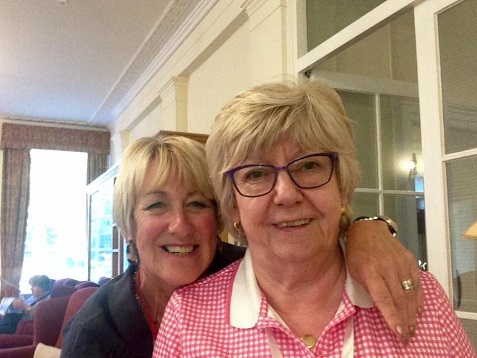 Baslow Bear has become a photographer! Two members of the Derbyshire Denman College Committee enjoying both the hospitality and the sunshine. Lorna Wilson and Barbara Barlow after a long hard day of hard work!
Four members from Barlborough and Clowne WI took up the challenge and studied the ukelele at Denman during October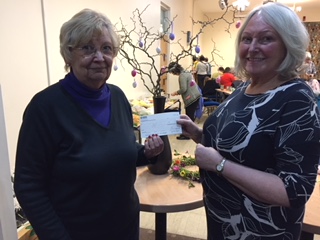 SAVING DENMAN Barlborough and Clowne WI - recently held a coffee morning in Barlborough village and raised £202 towards the Denman appeal. President Patricia Quinn handed the cheque to Hon County Treasurer Anne Bellamy at the monthly meeting in March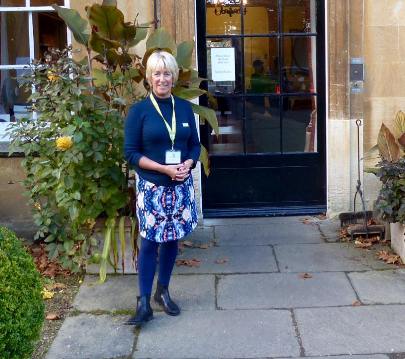 Barbara Bailey Denman Ambassador - Denman? Have you been yet? Derbyshire Federation are visiting in March 2019, but to wet your appetite Denman are coming to us on Friday July 6th 2018! More details later, but should you wish to contact me for a talk please Pm me or contact Derbyshire House.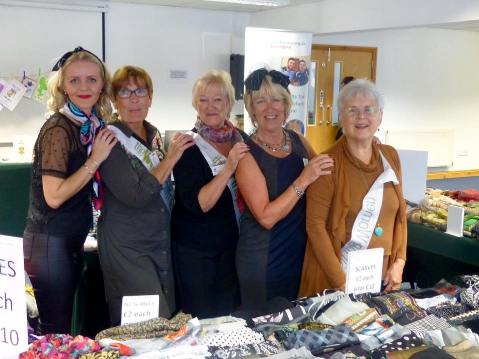 SAVING DENMAN Briz Valley ladies enjoying a very worthwhile day out at the Derbyshire Autumn Council meeting 2017. Raffle sellers had a very healthy day and on our selling scarves for Denman we managed to raise £1100! Well done girls you were brilliant!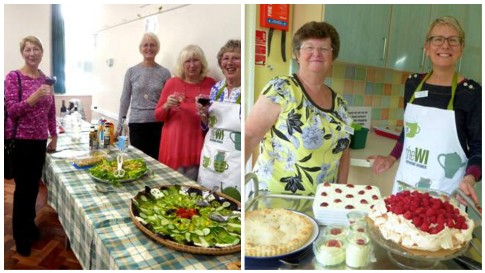 SAVING DENMAN: Baslow WI held a lunch in aid of the 'Saving Denman Appeal'. We were pleased to welcome friends and family and also our Derbyshire Federation Vice Chair & Denman Ambassador, Diane McHarg. The event, ticket sales and raffle, raised in the region of £240 which added to funds raised earlier this year takes the total to approximately £700. Well done to everyone involved.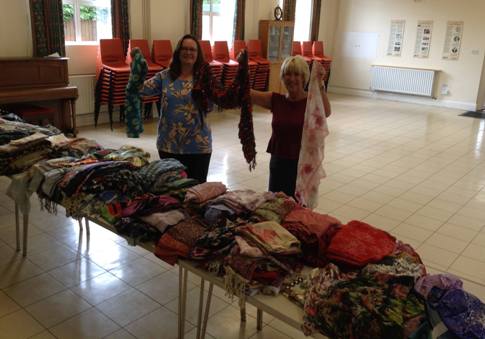 Scarves for Denman All 1000 scarves are sorted and ready to be sold at the Autumn Federation meeting in October at the bargain price of £2 each or 6 for £10!! I hope everyone will buy at least one to boost DFWIs effort for the Saving Denman Appeal - Diane McHarg.
Singing at Denman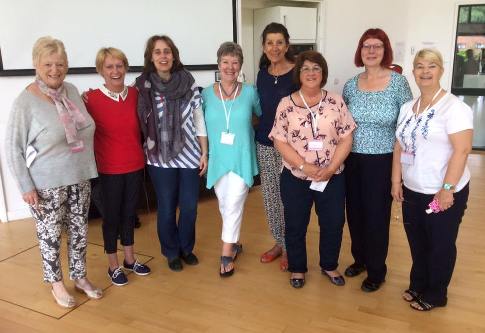 Seven members from Derbyshire Federation enjoying Jo Sercombe's Singing Course at Denman. Having a wonderful time.
The Derbyshire Room at Denman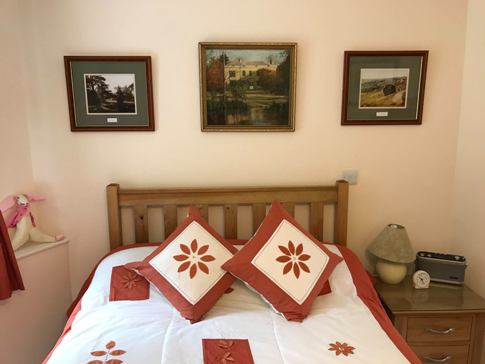 Diane McHarg says: The housekeeper, Sue, from Denman sent this picture. I think the room looks lovely, especially with its new picture (in the centre above the bed) donated by Anna from Baslow WI.
DFWI at Denman July 2017
What a geat weekend DFWI members had at Denman this month. One highlight was the presentation of a cheque to the Save Denman Appeal made by Barbara Bailey our new Denman representative. Barbara walked the Penine Way along with other WI members raising between them a whopping £4,000 from sponsorship. The group of walkers were hosted by WIs along the way. Well done to al lof them.
A variety of courses were enjyed by members during the weekend from walking in the Cotswolds, Mosaic Work and Ribbon Embroidery to name a few
226871
____________________________________________
Saving Denman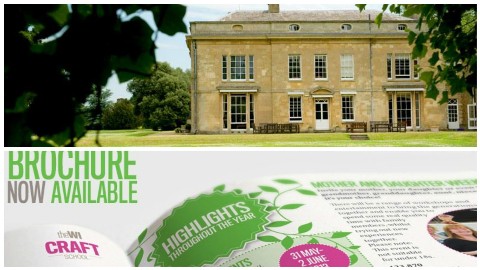 An appeal has been launched by the National Denman Committee to raise money for the ongoing maintenance of the buildings and grounds
As at August 2017 the appeal has raised over £407,790.52.with donations coming in every day
To maintain the building we need to raise £110,000 per year to be put into a designated fund for this.
Denman was bought for £16,000 in 1948 by each WI contributing £10 over 3 years and we feel this must be saved for future generations.
If you would like to donate to this very worthy cause you can make a cheque made "payable to Denman" in the post to Saving Denman Appeal, Finance Office, Denman, Marcham, Oxfordshire, OX13 6NW, please put your WI and Federation so it can be tracked.
Or why not hold a fundraising event at your WI or with other WIs in your Group. remember - every little helps to keep this valuable resource
Bernie.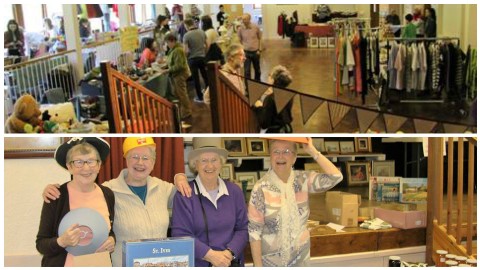 Breadsall WI held an Indoor Car Boot to raise money for Denman
____________________________________________
Do it for Denman
Help maintain and enhance Denman by joining the challenge to sell one million cups of tea or coffee! WI members have already raised more than £117,000 towards this - meaning that the heating and plumbing project in the main house is now complete! We still hope to raise more to pay for further work and refurbish other areas. You can help by collecting money individually or in conjunction with your WI. Why not organise an afternoon tea, or entertain the family.
For details please contact Katie Bell: email - k.bell@denman.org.uk
_______________________________________________________________________
Denman Gallery
176915
_________________________________________________________________________________
About Denman
Denman is our very own College and is situated in the village of Marcham near Abingdon in Oxfordshire. Denman is a Stately Home set in 17 acres of lovely garden and is often referred to as 'The Jewel in the WI Crown'.
The College opened on the 24th September 1948 and education has always been at the heart of the WI. Over the years facilities have grown and we can now offer accommodation for 84 students – and the majority of the bedrooms being single with en-suite.
We have recently had the addition of the 'Ferris Room' which is a Conference Room that can seat between 120-130 people and has windows overlooking the lawn. The Ferris Room is a multi-purpose venue and able to accommodate large demonstrations.
Denman is always popular with members and several WIs have been successful with Award for All grants from the Lottery to enable their members to attend courses. Group Bookings where several WI members join up and travel by coach together help make up the 6,000 students who attend courses each year. Day visits are also very popular for members to enjoy the experience of Denman and to decide what course suits them best.
Denman has a superb Cookery School,beautifully equipped by Stoves, with knives donated by Zwilling Henchkels and Celebrity Chefs often have Day Schools at the College.
Denman is unique to our organisation and is envied by otherresidential colleges. We can learn in a safe community environment and enjoy whatever we want to do. We can pursue something new or update a skill but there is always a wonderful selection of courses to choose from. Members do have a good time and meet new friends.
We have our very own 'Derbyshire Room' at Denman which is maintained to a very high standard by the Federation. This room has recently been refurbished with donations from the members themselves and has on display a painting donated by Pollyanna Pickering and books donated by Her Grace the Dowager Duchess of Devonshire.
Contact the NFWI
Phone: 020 7371 9300
Open hours: 9am–5pm Mon–Fri
Address: 104 New Kings Road, London SW6 4LY
Or fill in the contact form... to email a specific department