Denman
Return to About Us (Home Page)
Denman Sub-committee
Diane McHarge - Chair
Barbara Bailey - Denman Ambasador
Janette Lobley
Any Denman queries - please contact the staff at Derbyshire House on 01332 342596
Saving Denman Appeal Update - August 2017
Click here to see the latest update on fundraising for Denman
Do it for Denman with Diane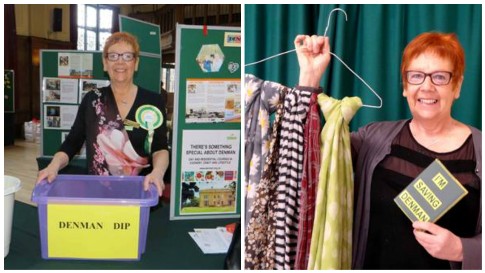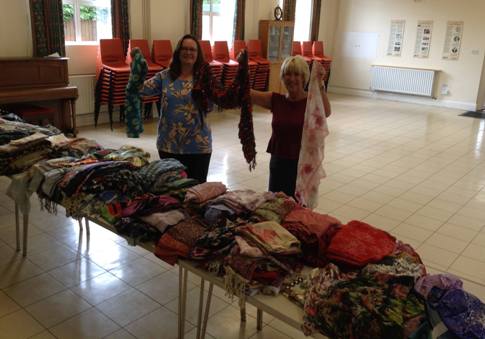 Scarves for Denman All 1000 scarves are sorted and ready to be sold at the Autumn Federation meeting in October at the bargain price of £2 each or 6 for £10!! I hope everyone will buy at least one to boost DFWIs effort for the Saving Denman Appeal - Diane McHarg.
Singing at Denman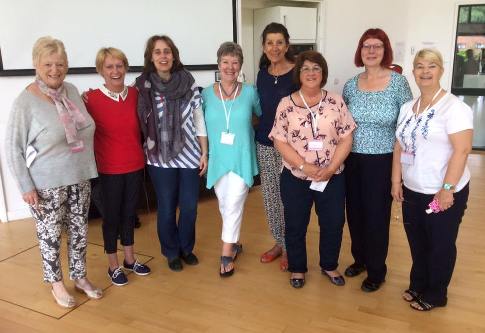 Seven members from Derbyshire Federation enjoying Jo Sercombe's Singing Course at Denman. Having a wonderful time.
The Derbyshire Room at Denman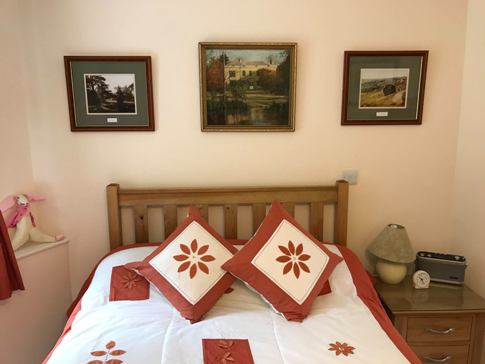 Diane McHarg says: The housekeeper, Sue, from Denman sent this picture. I think the room looks lovely, especially with its new picture (in the centre above the bed) donated by Anna from Baslow WI.
BURSARIES FOR DENMAN 2017/18 - Final Bursaries for 2017

A final batch of first timer bursaries is available for the 2017/18 programme year, to be used on open residential courses taking place before 30 September 2018.

The Denman Committee thanks the donors of bursaries listed below for their support in this year's programme.

THE BURSARIES LISTED BELOW ARE ALL FOR FIRST TIMERS - WI members who have not attended a residential course at Denman before.

Beryl Allan Bursaries
Kindly donated by James Allan in memory of his late mother Beryl Allan, the following bursaries are available:
Five course bursaries for £300
Four course bursaries for £250
Freda Barnicoat Bursaries
Kindly donated by John Barnicoat in memory of his late wife Freda Barnicoat, the following bursaries are available:
Four course bursaries for £250
HOW TO APPLY FOR BURSARIES
To apply for any of the Denman bursaries detailed above, please send a short letter in support of your application to:

Karen Hodge, Finance, Denman, Marcham, Oxon, OX13 6NW or email k.hodge@denman.org.uk

In your letter or email please give the following details:
* Your full name, contact details, WI and Federation
* The name of the bursary you would like to apply for
* Confirmation that you have not visited Denman in the past
* The number and title of the course you would like to attend if your application for a bursary is successful, plus a second and third choice.

The closing date for applications is Friday 24 November 2017. Successful applicants will be contacted in writing by Friday 8 December 2017.

Regrettably it will not be possible to notify unsuccessful applicants.

NOTES
All bursaries awarded must be used on residential open courses taking place before the end of September 2018.
Only one bursary may be applied for per individual.
A bursary cannot be awarded to anyone who has been to Denman or awarded a Denman bursary in the past three years.
Denman bursaries are open to WI members only, for residential open courses and cannot be applied to a course arranged via a federation or a small group booking.
Denman bursaries cannot be applied to courses already booked
DFWI at Denman July 2017
What a geat weekend DFWI members had at Denman this month. One highlight was the presentation of a cheque to the Save Denman Appeal made by Barbara Bailey our new Denman representative. Barbara walked the Penine Way along with other WI members raising between them a whopping £4,000 from sponsorship. The group of walkers were hosted by WIs along the way. Well done to al lof them.
A variety of courses were enjyed by members during the weekend from walking in the Cotswolds, Mosaic Work and Ribbon Embroidery to name a few
226871
The new Denman Brochure- July 2017 to July 2018
This brochure is packed full of exciting courses and events, including several fabulous special events at Denman (pages 32-33), including the ever-popular London river cruises with Peter Lawrence, and two literary lunches with renowned authors Julie Summers and Clare Mackintosh.

Click here to download

Denman is also thrilled to announce brand new courses, abroad! For the first time, we will be taking students across Europe (page 33). You can choose between a floral extravaganza, powerful battlefield visits or a textile art show. There are limited spaces available so make sure to book soon!

We're also bringing back the Mother and Daughter Weekend (page 23) in April next year – spend quality time with family, and learn some new and exciting skills!
New - Denman on Tour
Call us today on 01865 391 991 to book your place
Itineraries are available for the courses and can be sent by email or phone.
Dutch Floral Extravaganza

21-26 April 2018
From £1,110 pp. Single and shared room options available.

Join us for a floral exploration in Holland, as part of Denman's new courses abroad! You will be visiting the oldest botanical garden dating to 1590, Flora Holland, the largest trading centre for flowers in the world, the Franz Hals Museum and Keukenhof. Your trip will also include a canal cruise and an opportunity to purchase from a major floral sundries wholesaler. Denman tutor and European floral expert David Martin will be with you throughout, and when you return to Denman, you will participate in a final floral workshop using all the knowledge you learned on your trip!
WWI Battlefields with Simon Gregor

22-27 July 2018
M £1,140 NM £1,240. Single rooms only.

Join us for a powerful and emotional exploration of the WWI battlefields of Ypres, Somme and Arras with historian, photographer and expert tutor Simon Gregor. You will learn about a range of subjects including the role of women in the Great War, the 1914 battles, the development of trench warfare and the causes of WWII. You will visit sites along the way including Menin Gate, the Memorial Museum in Passchendaele, Talbot House, Ulster Tower and more. The final morning at Denman will give you the opportunity to reflect on the trip, to consider other sources to learn more about the Great War, and to discuss any photographs you have taken
European Patchwork and Textile Tour
12 - 17 September 2018
Places and itinery will be made availalble from September 2017. Please contact us to be added to the list
It's sale time!
Curious about what's on offer at Denman in November? Have a look below and choose a course that suits you. Then give us a call and quote PROMO0917. This offer is valid until Friday 15 September 2017.
Tin Jewellery & Ornament Making for Beginners
30 October - 1 November
Jolana Stastna
M £300 NM £340
M £270 NM £306
Tiffany Stained Glass Ornaments for Beginners
1-3 November
Jolana Stastna
M £300 NM £340
M £270 NM £306
Watercolours: Paint a Hare
8-10 November
Richard Box
M £300 NM £340
M £270 NM £306
Marquetry: An Introduction - Christmas Decorations
10 November
Quentin Smith
M £105 NM £125
M £94.50 NM £112.50
Family History for Beginners
11 November
Jessica Feinstein
M £105 NM £125
M £94.50 NM £112.50
Christmas Soutache
13-15 November
Amy Surman
M £300 NM £340
M £270 NM £306
Cushion Cover Making
18 November
Christine Eady
M £105 NM £125
M £94.50 NM £112.50
Anglo Indian Christmas
27-29 November
Jenny Mallin
M £340 NM £380
M £306 NM £342
The Christmas Story in Art & Music
27-29 November
Richard Box
M £300 NM £340
M £270 NM £306
Stained Glass: Copper Foiling
27-30 November
Anna Conti
M £485 NM £545
M £436.50 NM £490.50
Cooking: Stress Free Christmas
29 November - 1 December
Paul Bellchambers
M £340 NM £380
M £306 NM £342
Rag Rugging: Christmas Decorations
30 November - 1 December
Deborah Hastings
M £180 NM £200
M £162 NM £180
New Denman Courses for Autumn 2017
167.1975 The Magic Fridge: Alex Mackay Demonstration & Book Signing
18 September 2017
M £50 NM £55
The Magic Fridge can transform the way you cook and eat. In this special event, Denman tutor Alex Mackay will show you how to save time on your everyday cooking by stocking your fridge occasionally. He will demonstrate that cooking and eating can make you feel magical, but the way you get there is to be pragmatic and get well prepared. So take your seats and get yourselves prepared for this demonstration that will turn your fridge into an endless source of inspiration.
Midweek Baking
20-22 Sept 2017
M £330 NM £370 10% off quoting PROMO0817. This offer is valid until Friday 18 August 2017.
Desserts
25-27 Sept 2017
M £330 NM £370 10% off quoting PROMO0817. This offer is valid until Friday 18 August 2017
167.2017 A Literary Lunch with Helen Carey
27 September 2017
M £45 NM £50
Join us at Denman to welcome back Helen Carey, NFWI Chairman, 1999-2003. Helen will discuss her processes of researching, writing and publishing her original edition of 'Bows of Burning Gold' which depicts the rich tapestry of life in the WI over the past 100 years. Originally published in 2005, this new Centenary Edition and talk about her passion for the WI and its history. This wonderful and insightful day will include morning coffee and pastries, plus a two-course lunch with a glass of wine.
167.2024 Gardens of Delight
27-29 September 2017
M £325 NM £365
This is a course packed with surprises, offering the chance to explore Rousham, an 18th century Kent masterpiece, and compare and contrast it with Tom Stuart-Smith's design for Broughton Grange in 2001. These two delightful gardens, plus a variety of others, will be explored in a colourful presentation.
67.2023 Cotswolds: River Leach Ramble (Maximum 6 miles per day)
27-29 September 2017
M £310 NM £350
On this course you will walk the quiet footpaths along the River Leach, through the villages of Eastleach Turville and Eastleach Martin, to the historic riverside town of Lechlade-on-Thames.
167.2022 Contemporary Papercraft
27-29 September 2017
M £290 NM £330
This will be a fun and relaxed course using a variety of paper crafting tools and techniques to make handmade cards, gift tags and a treat holder suitable for small gifts or for the Christmas table. 10% off quoting PROMO0817. This offer is valid until Friday 18 August 2017.
A Paper Bag But Not As You Know It
25-27 Sept 2017
M £290 NM £330 10% off quoting PROMO0817. This offer is valid until Friday 18 August 2017.
167.2021 Stunning Scarves on Soluble Fabric
27-29 September 2017
M £290 NM £330 10% off quoting PROMO0817. This offer is valid until Friday 18 August 2017.
Make beautiful scarves using soluble fabric and free machine stitch. This exciting course will enable every individual to create their own unique scarves or wraps in a relaxed atmosphere, using various yarns, ribbons and fibres together with soluble fabric and stitch.
Join the PDSA at Denman
Thursday 28th September
10.30am—4pm
Attendance is FREELove Animals? We still have some spaces available to join PDSA and two of its celebrity supporters to share in a day of knowledge, nostalgia and fabulous floral creations!

Email Denman@marketing.org.uk to book your place

*tickets will be allocated on a first come first served basis
167.2047: Baking for Market Stalls
29 September - 1 October 2017
M £340 NM £380
If you are looking for new ideas for products to sell at your local market, join us for this baking course. You will be making a selection of sweet and savoury products including chocolate, beetroot and cherry loaf cakes, peanut butter and maple syrup cookies and lumberjack tray bake slices.
167.2028 A Literary Lunch with Bestselling Author Clare Mackintosh
29 September 2017
M £45 NM £50
Come to Denman for a fascinating literary lunch with the Sunday Times No 1 Bestselling Author and previous Denman tutor Clare Mackintosh. Clare will be talking about her thrilling new novel 'I SEE YOU'. Clare will sign your free copy of the paperback on the day.
Powertex Stone Art Wall Plaque or Sculpture
29 Sep - 1 Oct 2017
M £290 NM £330 10% off quoting PROMO0817. This offer is valid until Friday 18 August 2017.
Creative Writing and Publishing: Preparing Your Novel for Publication
1-4 Oct 2017
M £445 NM £505 10% off quoting PROMO0817. This offer is valid until Friday 18 August 2017.
178.065: Winter Writing Retreat
9-12 October 2017
M £445 NM £505

Dig out that unfinished writing project languishing in a drawer or, if you're a beginner, come along to get inspired and start writing. Overcome writer's block and enjoy working in a supportive, tutor-led classroom and in programmed one-to-one sessions on your short stories, memoirs, life stories, sketches, plays, articles or novels.
178.061: Oxford and the Colleges
9-12 October 2017
M £520 NM £580

Explore Oxford, the medieval city of dreaming spires, home to kings and queens and the site of the oldest university in England. You will explore the Ashmolean Museum, the Bodleian Library and the Old Schools quad. Enjoy lunch on both days in the colleges and end the second day with choral evensong at Christchurch.
178.064: Rambling On (7 to 8 miles)
9-12 October 2017
M £485 NM £545
Enjoy two contrasting walks in the Chilterns and Cotswolds chosen for their natural beauty and variety of landscapes.
178.063: Watercolours for Beginners
9-12 October 2017
M £445 NM £505
Use watercolours to produce paintings in this delicate but expressive medium. A class for beginners and those with a little experience. Fun and enjoyment form an important aspect of the course.
178.062: The Ins and Outs of Needle Felting - from Art to Animals
9-12 October 2017
M £445 NM £505
Come and discover needle felting; a modern twist on the ancient art of felting. Using a special barbed needle and a wide range of beautiful dyed wool, you can create gorgeous pictures and the cutest animals aroun
178.247: Master your Overlocker for Beginners
10-12 October 2017
M £300 NM £340

This course is designed for those who want to gain the knowledge and confidence to use their overlocker. Whatever overlocker you have this course will help you to sew a range of materials, and learn new techniques. Build your confidence to achieve professional seams and hems and practice threading and re-threading, adjusting stitch width and differential feed. Sewing a variety of materials from cotton to jersey, you will learn about using the correct thread and the techniques for a variety of applications.
Needle Felting: Make a Penguin - Day School
27 October 2017
M £105 NM £125
Calligraphy: Christmas Italics
3-5 November 2017
M £300 NM £340
Needle Felting: Make a Polar Bear - Day School
5 November 2017
M £105 NM £125
Marquetry: An Introduction - Christmas Decorations
10-11 November 2017
M £105 NM £125
Step Up Your Style for Christmas
11-13 November 2017
M £300 NM £340
Jewellery: Christmas Soutache
13-15 November 2017
M £300 NM £340

Digital Photography: Christmas Cards
13-15 November 2017
M 300£ NM £340
Free Machine Embroidery Doodles in Stitches: A Christmas Design
23-24 November 2017
M £180 NM £200
The Christmas Story in Art and Music
27-29 November 2017
M £300 NM £340
Mosaics for Christmas
28-30 November 2017
M £330 NM £370
Cookery: Stress Free Christmas
29 November - 1 December 2017
M £340 NM £380
Rag Rugging: Christmas Decorations
30 November - 1 December 2017
M £180 NM £200
Christmas Stitch Up - Family Day (8yrs+)
3 December 2017
M £65 NM £75
____________________________________________
Saving Denman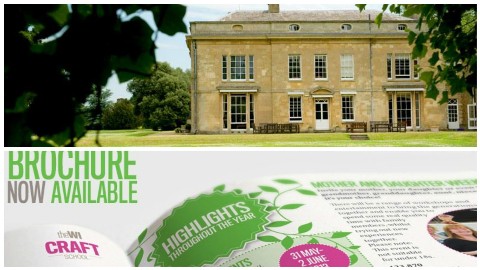 An appeal has been launched by the National Denman Committee to raise money for the ongoing maintenance of the buildings and grounds
As at August 2017 the appeal has raised over £407,790.52.with donations coming in every day
To maintain the building we need to raise £110,000 per year to be put into a designated fund for this.
Denman was bought for £16,000 in 1948 by each WI contributing £10 over 3 years and we feel this must be saved for future generations.
If you would like to donate to this very worthy cause you can make a cheque made "payable to Denman" in the post to Saving Denman Appeal, Finance Office, Denman, Marcham, Oxfordshire, OX13 6NW, please put your WI and Federation so it can be tracked.
Or why not hold a fundraising event at your WI or with other WIs in your Group. remember - every little helps to keep this valuable resource
Bernie.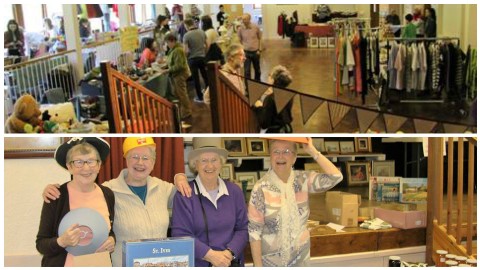 Breadsall WI held an Indoor Car Boot to raise money for Denman
____________________________________________
Do it for Denman
Help maintain and enhance Denman by joining the challenge to sell one million cups of tea or coffee! WI members have already raised more than £117,000 towards this - meaning that the heating and plumbing project in the main house is now complete! We still hope to raise more to pay for further work and refurbish other areas. You can help by collecting money individually or in conjunction with your WI. Why not organise an afternoon tea, or entertain the family.
For details please contact Katie Bell: email - k.bell@denman.org.uk
_______________________________________________________________________
Denman Gallery
176915
_________________________________________________________________________________
About Denman
Denman is our very own College and is situated in the village of Marcham near Abingdon in Oxfordshire. Denman is a Stately Home set in 17 acres of lovely garden and is often referred to as 'The Jewel in the WI Crown'.
The College opened on the 24th September 1948 and education has always been at the heart of the WI. Over the years facilities have grown and we can now offer accommodation for 84 students – and the majority of the bedrooms being single with en-suite.
We have recently had the addition of the 'Ferris Room' which is a Conference Room that can seat between 120-130 people and has windows overlooking the lawn. The Ferris Room is a multi-purpose venue and able to accommodate large demonstrations.
Denman is always popular with members and several WIs have been successful with Award for All grants from the Lottery to enable their members to attend courses. Group Bookings where several WI members join up and travel by coach together help make up the 6,000 students who attend courses each year. Day visits are also very popular for members to enjoy the experience of Denman and to decide what course suits them best.
Denman has a superb Cookery School,beautifully equipped by Stoves, with knives donated by Zwilling Henchkels and Celebrity Chefs often have Day Schools at the College.
Denman is unique to our organisation and is envied by otherresidential colleges. We can learn in a safe community environment and enjoy whatever we want to do. We can pursue something new or update a skill but there is always a wonderful selection of courses to choose from. Members do have a good time and meet new friends.
We have our very own 'Derbyshire Room' at Denman which is maintained to a very high standard by the Federation. This room has recently been refurbished with donations from the members themselves and has on display a painting donated by Pollyanna Pickering and books donated by Her Grace the Dowager Duchess of Devonshire.