Campaigns
Return to About Us (Home Page)
Link Together: How you can take part in the NFWI's campaign to alleviate loneliness
Our new campaign seeks to inspire WI members to take action on loneliness and share innovative ways of engaging with others who may be lonely.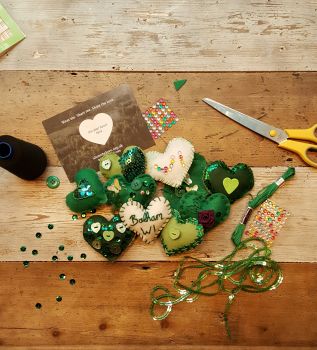 The NFWI will be taking part in Show the Love again for 2018! A community pack with exciting ways you can take part and new craft and baking templates will be ready around November.
ASSOCIATED WOMEN OF THE WORLD
Known as ACWW or referred to as Pennies for Friendship
ACWW has its own website at www.acww.org.uk/
ECO TEAMS
How are you doing? Let us know!
DoveridgeEco Team is into its second year and the chairmanship has been handed from Sue Watkins to Marian Burton. So far, the team have drastically reduced their own rubbish that goes to landfill, while making improved compost and recycling many items. Team member Jean Hayward said"It's just amazing how much we can learn from each other!"
The team has hosted a very successful Composting Day, involving many different members of the community and has also been in contact with the Primary School Eco Team. Members usually meet at each others homes to discuss progress and a variety of topics over a fairtrade cup of tea and homemade cake (no wrappers, just egg shells to compost!)
They visited a local farm produce shop and have other visits planned. Sue Watkins reports: "We have discussed insulation,secondary glazing, how to save water and use what we do need more efficiently. My own target of changing to energy saving light bulbs is near completion and I know that because of our meetings one local business has chosen more energy efficient cars than before: we are making a difference! We learn so much each time we meet - it's the detail that helps us make a difference. And of course, we have such fun and plenty of laughter."
SUSTAINABLE COMMUNITIES
If there is a Sustainable Community near you do go and join it. Together we can make more of a difference!