About us
Welcome to the Derbyshire Federation
Quick links to useful information - click to access
Handy link to the Speaker Handbook
Handy link to 'Stop Press' for information on new events hot off the press and 2018 Subscription Fees
Handy link to Federation Downloads for all useful forms
Handy link to Denman for information on residential and day courses
Handy Link to Campaigns page for details on the latest NFWI campaigns
Handy Link to Calendar of Events 2018
Handy Link to NEW Home Economics Recipe Page
Handy Link to Stay Safe on Line leaflet
Handy Link to Craft Events and Craft page
Handy Link to the NFWI Craft Page
______________________________________
Federation Chairman's Letter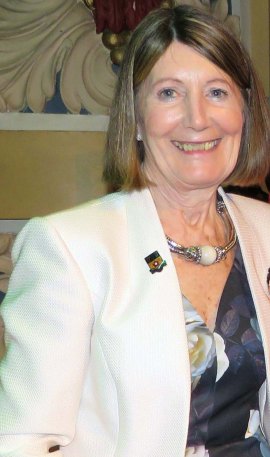 I would like to welcome you most warmly to the Derbyshire website, whether you are a long-standing resident or you have just recently moved into the County and are interested in what we have to offer.
Derbyshire is a wonderful and diverse County, with many thriving market towns, rural villages, and also the vibrant City of Derby itself. Geographically, it is a lengthy County, stretching from the much-visited Peak District in the north to the National Forest in the south, with many places in between, steeped in history, and well worth a visit.
We are a large Federation with over 6000 members in 179 WIs, which range in size from 11 members to over 75 members, which are divided into 28 Groups. We are extremely fortunate to own our Headquarters- Derbyshire House, which is situated at the top of Sherwin Street, Derby. It is a well-equipped building in which we are able to hold our own events as well as offering it out for hire to external users.
Our sub-committees organise a varied programme of events throughout the year, both at HQ and at venues around the County, trying to cater for all tastes and interests. If "quizzing" is your hobby, we run an extremely popular annual event with inter-WI rivalry! We also offer holidays and trips to other parts of the country, and Europe as well as long haul for those who enjoy travel.
Both the County Show, (moved this year to Locko Park) & Bakewell Show are focal attractions for us, where we invite you to enter Home Economics, Craft, Photography, Painting & Co-operative Competitions, as well as enjoying a welcoming home-made cake and a drink in the Catering Marquee. We view these Shows as a way of promoting the WI to a larger audience, and our Membership Support Committee is always on hand to answer your queries.
We have recently descended annually to Denman College, for a Federation weekend which is the WIs own College situated in Marcham, Oxfordshire. Denman boasts a wonderful Georgian House situated in extensive, magnificent grounds, and is an ideal place to try out a new skill, brush up on a favourite one, or even just relax! Either way, you are bound to make new friends and vow to return for another visit.
If you are interested in becoming a member, please contact the Office for information- try one or two WIs in your area before joining, as they are all individual. Whichever one you decide on, rest assured that you will be made extremely welcome, will learn new skills, make new friends and best of all you will have some fun.
As we near our Federation Centenary, which is on countdown for 2018, there could not be a better time to join a WI in Derbyshire, as many celebrations are being planned to make it a year to remember. We look forward to meeting YOU.
Chrissie Booth
Federation Chairman
Meet the staff at Derbyshire House
Visit our Facebook Page here
Join in the conversation by visiting our Twitter Page here