About us
Welcome to the Buckinghamshire Federation of WIs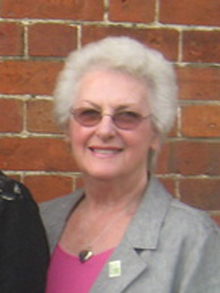 160
The first WI in this county, Ivinghoe, was opened in 1917 and continues today as the enlarged Ivinghoe and Pitstone WI. The Federation was formed in 1920 and in 2015 we celebrated our 95th Anniversary with a year packed full of fun and memorable events culminating in a garden party held at the National Trust's Waddesdon Manor on 16 June. We have 134 WIs with a total of around 4500 Members.
We have an active network of Trustees and sub-committees who organise events ranging from cultural visits to sporting activities and from craft to current affairs.
Whatever you want to learn or to achieve, I am sure there will be someone either at a local level or from within the Federation who can find you the opportunity you are looking for.
We have a fantastic newsletter each month to which Members can subscribe and our website also provides information about what is going on in the Federation. I hope that we shall be able to welcome you to our events and to our Annual Council Meeting. This is our annual business meeting held at the Waterside Theatre in Aylesbury and is always an interesting and informative day. As well as giving an insight into the workings of the Federation we also have well-known speakers; in April 2015 Jo Fairley, co-founder of Green and Black's organic chocolate and the Double Winter Paralympian Anna Turney joined us. In 2016 we shall welcome Mandy Hickson a former RAF Tornado GR4 pilot.
Campaigning has always been important to Buckinghamshire members. In 1935 we expressed concern at the prevalence of diphtheria in the county; in 1936 we campaigned for an improvement in the standard of milk and in 1943 for all village schools to have water and modern sanitation. More recently we have been urging an improvement in the aftercare of stroke survivors after their discharge from hospital.
Enjoy your visit to our website and feel free to contact us for any more information which you might need.
Jenny Street
Federation Chairman