Welcome
Welcome to Stoke Gifford WI
Stoke Gifford WI was formed in November 1966 and average a membership of 30+. We meet at 7.30pm on the first Wednesday of each month at The Trust Hall, North Road, Stoke Gifford, BS34 8PF.
Visitors are always welcome and can attend 2 meetings free.
We are very friendly and provide members with interesting activities and social contact.
Forthcoming Events
Walks Programme: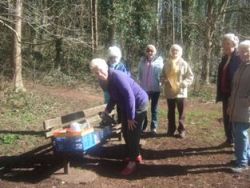 Walks normally take place on the first Monday after our monthly meeting at 10.00am.
Contact the NFWI
Phone: 020 7371 9300
Open hours: 9am–5pm Mon–Fri
Address: 104 New Kings Road, London SW6 4LY
Or fill in the contact form... to email a specific department