Helen Carter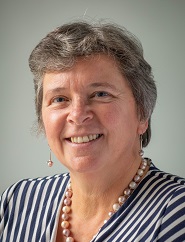 Chair of Denman Committee
Helen was co-opted onto the board in November 2019 and was elected Chair of the Denman Committee in June 2021. She is a member of the Denman and Activities Committees.
Helen joined Longstock and Leckford WI in 2009 having visited many WIs in Hampshire as a speaker. She was president for four years and remains an active committee member. In 2011, Helen qualified as an adviser and became chair of the membership team for four years. Helen was elected onto the Hampshire board of trustees in 2012 and became Denman Ambassador the following year, she now serves as the Chair of Hampshire Federation. She also served as a member representative on the National craft committee for one year. Helen was part of the team carrying out the archiving of the WI National textile collection.
Helen started her career as a nurse in Jersey and worked at Salisbury on an oncology ward. After medically retiring, she set up her own fair trade and eco shop, encouraging less plastic and refilling products. This shop ran for 15 years.
Volunteering has been a large part of Helen's life, having been a parish councillor for many years, setting up and running a debt advice centre, taking on leadership roles in church including being an elder. She was part of the area committee and regional board of the Co-operative businesses for many years.
Interests include gardening and allotment, embroidery and all things sewing, Denman is a second home and Helen is a life member of The Royal School of Needlework. She also reads every day and is a member of her WI book club.