Catriona Adams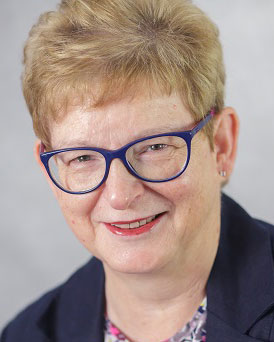 NFWI Vice Chair and Chair of the WI Enterprises Ltd Board
Catriona was elected to the NFWI Board of Trustees in June 2013 and is Chair of the WIE Board. Was elected NFWI Vice Chair in June 2021. She also sits on the Denman and Finance Committees.
Catriona was born in Aberdeen in Scotland and originally lived on Rousay in the Orkney Isles. She moved to Lincoln with her family when she was due to start school. Catriona trained as a shorthand typist and worked for East Midlands Electricity before changing direction to become a Credit Controller within that company. Returning to work after having her family she worked as Secretary for a firm of Accountants, in Lincoln.
Catriona joined Hykeham Forum WI in 1979 and took over as Secretary in March 2020. She has previously held the positions of President and Treasurer. Whilst Chairman of Lincolnshire North Federation she chaired the Members Advisory Commitee. Whilst on the Federation Board of Trustees she also held the roles of Assistant Treasurer and Catering Co-ordinator. In the later role she organised the catering for large local events including a wedding reception at Lincoln Cathedral.
Catriona spends some of her spare time working as a volunteer for the Citizens Advice Witness Service at Lincoln Crown Court. Her hobbies include Scottish country dancing and baking.