Maureen Hancox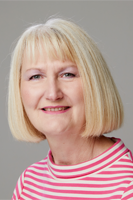 Maureen Hancox
Maureen was elected to the NFWI Board in 2019 having spent the previous two years as a member representative on the NFWI Craft Committee. Following her election as trustee in 2019 she was asked to sit on the NFWI Finance, NFWI Specialist Activities and Denman committees.
Originally from Sunderland Maureen went to college in Leeds to train as a Home Economics teacher. Her career in teaching 11-18 year olds both Food and Textiles led to her being Head of the Design and Technology Department in a Technology College and also meeting her husband at the same school.
Retiring from teaching in 2012, she was able to take an active role in Cookridge Crumpets WI and was appointed Secretary and then became president in 2015 to the present day. Maureen is also a dual member at Bramhope Rolling Scones WI.
Joining the West Yorkshire Federation on the Home Economics & Handicrafts Sub-Committee and then becoming Secretary led to Maureen being appointed to the Board of Trustees in January 2014 and held the role of Newsletter Editor until September 2018. Using her technology skills, she initiated an e-version of the newsletter which proved very popular with members and has now overtaken the printed version and increased circulation. Other Federations have been able to use Maureen's experience to produce their own e-newsletter.
Maureen was elected Vice-Chairman of West Yorkshire Federation in 2015-16 and was Chairman from 2016-19. She also served on the Campaigns & Current Affairs (past secretary), Social Events & Leisure Sub-committees and Membership Support. Maureen now stands on the Arts & Homecrafts Sub-committee and is a member of the Communications Team as well as coordinating the Knitting and Stitching Show Federation promotional stand in Harrogate and the Spring into Wool Fair, Leeds and as Denman Ambassador organises the Federation Denman weekend.
Maureen is married with two children and enjoys holidays at home and abroad. Forming a Book Club in her own WI enables her to read a number of books and also likes to cook with the many fruits and vegetables from their allotment - craft and dressmaking when time allows!
Contact the NFWI
Phone: 020 7371 9300
Open hours: 9am–5pm Mon–Fri
Address: 104 New Kings Road, London SW6 4LY
Or fill in the contact form... to email a specific department