Mary Clarke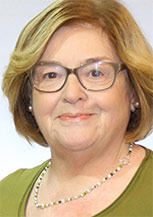 Mary Clarke
Mary was co-opted to the NFWI Board in July 2013, and elected in June 2015. Mary sits on the Denman, Membership Development and Public Affairs Committees, previously having served on Food & Garden, Science & Leisure, Craft and Finance Committees.
She was a member of Stockbury WI in West Kent from 1979, holding many different posts including serving 10 years as Secretary and also as President for three terms of office. Mary is a past Chairman and Treasurer of the West Kent Federation, having previously served as the Federation Vice Chairman, Chairman of Office and Finance, Organisation, Home Economics and Special Events Committees. Mary has been a WI Adviser since 1991, an Independent Financial Examiner, and Denman Ambassador from 2000 until 2013 when she moved from Kent. Mary then spent a year in East Yorkshire, joining Beverley St. Nicholas WI before moving to Wales. She is now a member of Govilon WI in the Gwent Federation, where she continues working as a WI Adviser. She is also an NFWI instructor in flower arranging.
In her earlier life, Mary worked for the Ministry of Defence, and then in the family business. In her spare time she enjoys flower arranging, visiting historic buildings, walking, travel and craft. She was previously very involved in her village community on various committees, including being Vice President of the Stockbury Gardeners Association.
Contact the NFWI
Phone: 020 7371 9300
Open hours: 9am–5pm Mon–Fri
Address: 104 New Kings Road, London SW6 4LY
Or fill in the contact form... to email a specific department