Lynne Stubbings - NFWI Chair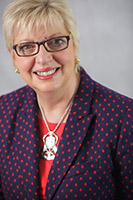 Lynne Stubbings
Lynne was co-opted to the Board of Trustees in 2008 and in 2017 she was elected as NFWI Chair. Lynne was previously Chair of the WIE Board and NFWI Vice-Chair. Lynne also sits on the Finance and Denman Committees, and has previously served on the Membership, Public Affairs and Training Committees. She was Chair of the Training Committee from 2009 to 2015.
Lynne's first job was with the BBC in London, but in 1972 she moved to Sutton Coldfield and became PA to the senior partner of a firm of chartered surveyors in Birmingham. She stayed in chartered surveying for over 20 years and then moved to work with her husband at the Warwickshire Union of Golf Clubs.
She joined Wishaw WI, Warwickshire in 1979 and held many posts, including that of President. In Warwickshire Federation she has served as News Editor, Press Officer, Membership Chairman, Vice-Chairman and Chairman, and is a WI Adviser.
She has been a National Trainer since 1999 and has trained WI Advisers and Independent Financial Examiners as well as visiting federations to deliver Trustee Training.
Lynne's interests include cinema and theatre, family history and watching sport, particularly golf and cricket.
Contact the NFWI
Phone: 020 7371 9300
Open hours: 9am–5pm Mon–Fri
Address: 104 New Kings Road, London SW6 4LY
Or fill in the contact form... to email a specific department