Jeryl Stone - NFWI Vice Chair and Chair of Denman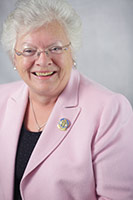 Jeryl Stone
Jeryl was elected to the NFWI Board in June 2017. She Chairs the Food & Garden Committee and also sits on the Denman, Craft and Finance Committees. She previously served on the Cookery Committee as a Member Representative.
Jeryl chaired the Warwickshire Federation between 1999 and 2002 and again from 2012 – 2015. She has served on several federation committees including: Office and Finance, Leisure Activities, Creative Activities, Public Affairs, WIMPS Marketing Team. She has also been Press and Publicity Officer, Calendar Coordinator, and Federation Quiz Organiser.
Jeryl sat on the Federation 90th Anniversary Committee and well as currently sitting on the 100th Anniversary Committee. She represents the Warwickshire Federation on the Corunna Court Management Committee covering the site on which the Federation Offices are located.
Jeryl has been a member of Hampton Lucy and Charlecote WI and committee for well over 20 years serving as President for two terms of office, speaker secretary, minute secretary, inventory secretary and MSC Rep.
Jeryl has been the practice Manager of an Architectural Practice for over 37 years involved in all aspects of running the business and also manages a small property portfolio within Warwickshire.
She has been a Volunteer with Macmillan Cancer support sitting on both the UK Forum and Regional Forum representing the Midlands area.
Jeryl's interests include salmon fishing, horse racing, gardening, flowers, cookery and preserving her own garden produce.
Contact the NFWI
Phone: 020 7371 9300
Open hours: 9am–5pm Mon–Fri
Address: 104 New Kings Road, London SW6 4LY
Or fill in the contact form... to email a specific department