1960s
1960
An AGM resolution was passed voicing concern about the use of toxic sprays and urging more stringent controls.
1961
Gabrielle Pike was elected NFWI Chairman and the WI had a market place at the Ideal Homes Exhibition. The WIs pledged to support the Freedom from Hunger Campaign. The total number of WIs had risen to 8,517.
1962
The WI subscription was raised to five shillings (one shilling and six pence to the National Federation, two shillings to the county federation and one shilling to the WI). The County Feasts and Festivals competition took place at the Dairy Show and Gabrielle Pike visited Russia. The NFWI AGM voiced concern about the dangers of radiation, joining with other women's organisations to reduce experimental nuclear testing.
1963
| | | | |
| --- | --- | --- | --- |
| | | | The first National Art Exhibition, Painting for Pleasure, took place at the Galleries of British Artists and the first WIs were opened in psychiatric hospitals. The AGM called for coordinated public transport in rural areas. |
1965
Golden Jubilee Year – There were numerous Golden Jubilee celebrations including a specially commissioned poem from the Poet Laureate C. Day Lewis. The Rule limiting formation of WIs to places with a population of under 4,000 was rescinded. WIs were invited to compile Scrapbooks of the Countryside and many of these are now deposited in the archives of Local Record Offices.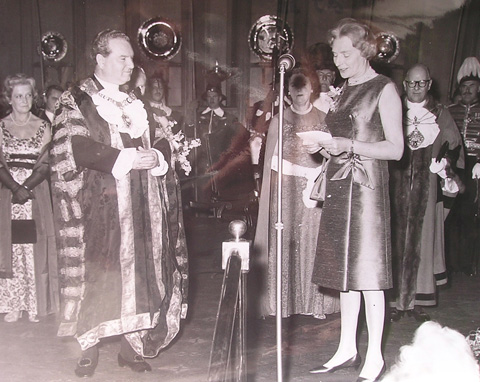 Mrs Pike speaking at the Guildhall reception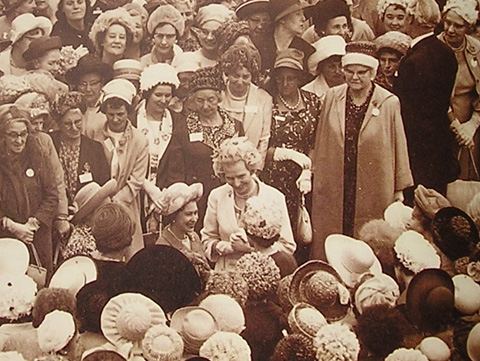 Garden party at Buckingham Palace
1966
| | | | |
| --- | --- | --- | --- |
| The Marchioness of Anglesey | | | The Marchioness of Anglesey was elected NFWI Chairman and the AGM raised concerns about the availability of habit-forming drugs to children and young people. The number of WIs had now reached 8,864. |

1968
The WI organised a conference on the countryside at Central Hall, Westminster attended by the Duke of Edinburgh. The WI subscription was raised to 10 shillings (50p) (10p for National Federation, 15p for the county federation and 25p for the WI).
1969
Sylvia Gray was elected NFWI Chairman and The Brilliant and the Dark was performed at the Royal Albert Hall. Commissioned by the NFWI, composer Malcolm Williamson and librettist Ursula Vaughan Williams produced a sequence following women's lives through the centuries. There were four performances given in the Royal Albert Hall.
Alison King resigned as General Secretary and was succeeded by Meriel Withal. There were now 9,051 WIs. The AGM urged members to conserve the countryside to the best advantage of the whole community.

To the left and below: The Brilliant and the Dark


Miss Withall – General Secretary

Sylvia Gray
Contact the NFWI
Phone: 020 7371 9300
Open hours: 9am–5pm Mon–Fri
Address: 104 New Kings Road, London SW6 4LY
Or fill in the contact form... to email a specific department