Craft in the WI
Even from the very early stages of the WI movement, it was clear that many members had an interest in crafts, both as a leisure activity and as a means of augmenting their incomes. In 1918 the NFWI set up a trades subcommittee, to investigate and assist in forming a trading society. That same year the first exhibition of craftwork by WI members was held at the Caxton Hall.

Many WIs set up 'industries' such as Ticehurst WI in Sussex who made smocked dresses and jumpers for children that were advertised in The Lady. In Warwickshire, there was skin curing, fur craft and glove making and in Devon members were dying, weaving and making socks. Once the war was over more competition from other manufacturers appeared and gradually the WI industries ceased. The NFWI therefore disbanded the trades subcommittee and concentrated on teaching crafts.

(Below left: A shop selling WI produced goods in Winchester, Below right: Members of a knitting industry in Dorset)
| | | | |
| --- | --- | --- | --- |
| | | | |
A specialist craft advisor was employed and the Guild of Learners of Handicraft
was formed in 1920 with the following aims:
To regain the practice of home handicrafts with a view to restoring the best traditions of English workmanship;
To assist in bringing the best instruction in handicrafts within the reach of villages.
WI membership was divided into two categories; WI associates and WI members. WI associates were members who undertook learning to become proficient in some handicraft connected with the home while WI members were already proficient in some handicraft and who may have been willing to use their knowledge for the development craft in their neighbourhood.

There were a series of proficiency tests which a member had to complete before she could train as a demonstrator, instructor or judge.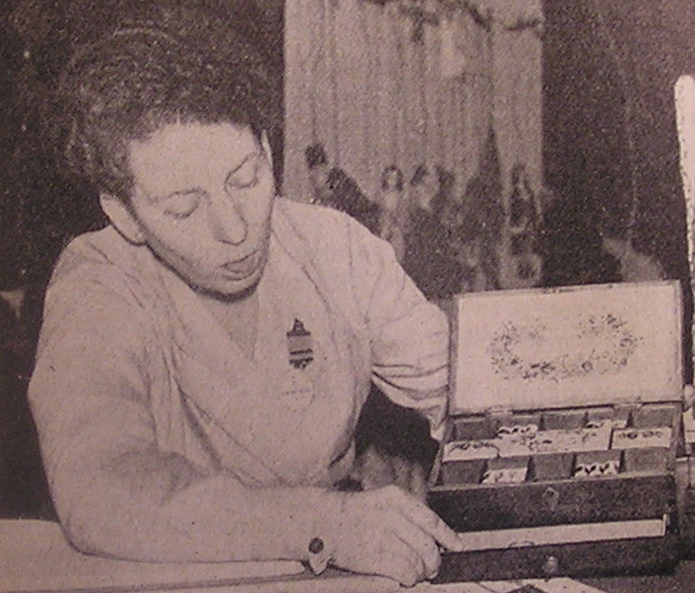 Miss Colby wearing a badge of the Guild of Learners

The first National Craft Exhibition was held Caxton Hall in 1918. Following that there were regular exhibitions to showcase the skills of WI members, some of which are listed below.
1920
New Horticultural Halls, London
1921
Small display at the Victoria and Albert Museum

1922

First National Handicraft Exhibition at the V&A
(Below: Presentation of certificates at the V&A exhibition 1922)


1924
The Drapers Hall
1927
The Indian Pavilion of the Imperial Institute
1929
The Imperial Institute South Kensington, London (11 - 16 October) and at the City Art Gallery in Leeds (22 – 28 October)
1932
New Horticultural Halls
1935
New Horticultural Halls
1938
New Horticultural Halls (held just after the Munich crisis).
No exhibitions during war time
1946
Leamington - Craftswomen at Work.
1952
Victoria and Albert Museum- Handicrafts in the Home. The centre
piece was the wall hanging, Women in Wartime, now housed at the Imperial War Museum.
1960
V&A - The Country Year
1975
Commonwealth Institute - Tomorrow's Heirlooms
1977
Debenhams craft sale
2000
Tatton Park – Millennium Craft Spectacular
2007/2008
Textile Treasures of the WI (jointly with The National Needlework
Archive)

In 1972 the Guild of Learners' work was absorbed into the mainstream education
programmes of the WI. As well as the Guild of Learners there has been regular
instruction as part of the WI programmes in practical skills from the early years including boot mending and tinkering (to mend pots and pans), hat making and soft furnishing.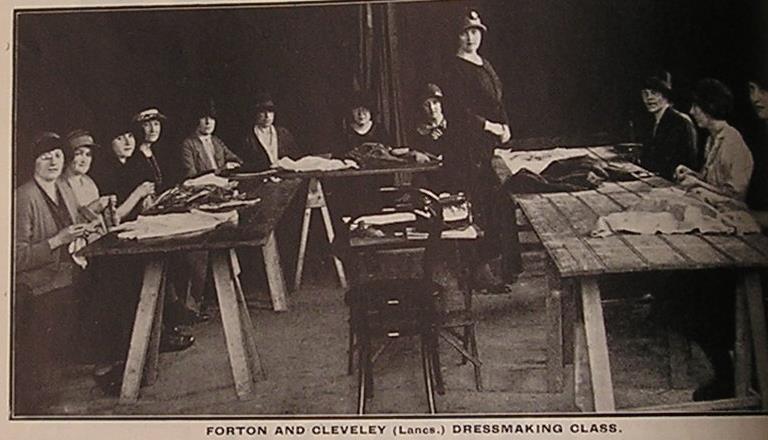 Dressmaking 1925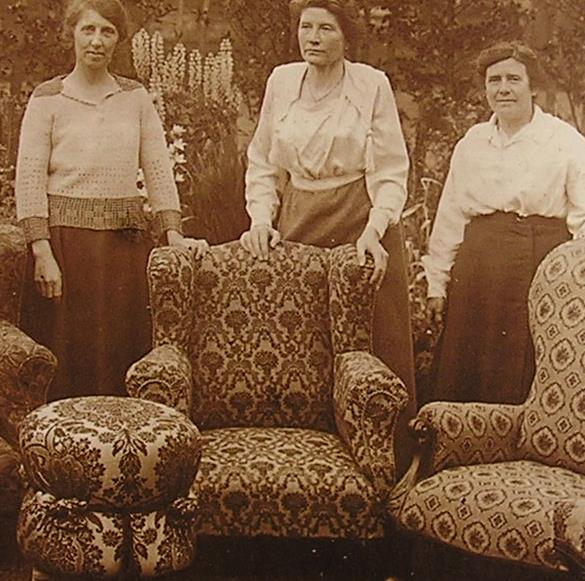 Upholstery 1930s
Contact the NFWI
Phone: 020 7371 9300
Open hours: 9am–5pm Mon–Fri
Address: 104 New Kings Road, London SW6 4LY
Or fill in the contact form... to email a specific department